Nyob zoo! That's pronounced "nyaw zhong," and it means "Hello!" in the Hmong language. A story popular among southeast Asia's Hmong people — many of whom now live in the United States — is the subject of this episode of YourClassical Storytime.
What happens when a magical girl comes face to face with a cunning tiger in her quiet village? Find out in the Hmong folk tale Yer and the Tiger, featuring traditional music, narration by Ka Vang and illustrations by Xee Reiter.
(See more of Reiter's illustrations in the gallery.)
---
YourClassical Storytime is supported by
Minnesota College Savings Plan
---
More:
Other YourClassical Storytime adventures
Download the YourClassical Storytime coloring book!
Podcast: Listen to YourClassical Storytime in your favorite podcast portal, including these:
Google     Apple     Stitcher     Spotify     RadioPublic
Educators: YourClassical Storytime meets Common Core Standards
Video
Playlist
Our telling of Yer and the Tiger includes excerpts from the following recordings:
The Music of the Hmong People of Laos, performed by Boua Xou Mua (Arhoolie CD446):
"Qeej Kawm Ntawv" ("Gaeng School Song")
"Ncaas Nja"
"Qeej Nqug Rooj"/"Qeb Tsoog Tuam Ntsaa" ("Gaeng Evening Song"/"Pull the Table")
"Tsaaj Nplaim, Dja Mblai"
Courtesy of Smithsonian Folkways Recordings
Music from Thailand and Laos, recorded by David Fanshawe (ARC 2588):
"Hmong Khaen"
Courtesy of Naxos of America Inc.
Original recordings by the Hmong Cultural Center:
"Qeej Nuj Nrws" (Storytelling), performed by Chai Lee, Qeej (Khaen/Gaeng)
Unnamed work, performed by Ger Xiong, Tsaaj Nplaim (free reed flute)
"Qeej Ntaus Rog" ("Getting Rid of Evil Spirits"), performed by Arahvihn Thor, Qeej (Khaen/Gaeng)
The Hmong Cultural Center, based in St. Paul, Minn., is the primary Hmong and Asian American organization in the Minneapolis-St. Paul area that provides community outreach activities related to multicultural education for the purposes of promoting positive race relations in the Twin Cities community. Find out more at www.hmongcc.org.
Credits
Narrator: Ka Vang
Adaptation: Ka Vang and Scott Blankenship
Illustrator: Xee Reiter
Producer: Valerie Kahler
Senior digital producer: Randy Salas
Program director: Julie Amacher
The Making of Yer and the Tiger
By Ka Vang, narrator
It is believed that being bitten by a tiger is the worst thing that can happen to you in the misty mountains of Laos, overlooking the megalithic archeologic wonder, Plain of Jars. Being bit by a tiger is such an alarming notion that the highest insult in the Hmong language is not a swear word, but a phrase, "niag tsov tom qua ntxi ntawd," or "may a tiger bite you!".
Growing up in the expansive mix of cultures that make up the Frogtown neighborhood in St. Paul, I didn't worry about tiger bites. Instead, I worried about navigating the world while having my feet planted in two cultures: American and Hmong. While growing up immersed in American life, I kept hold of my Hmong heritage through our rich folktales, sagas, and myths. One of the most significant folktales that every Hmong child knows is Yer and the Tiger. It is a magical story of a brave young girl facing off with a cunning demon tiger to protect her family and save her quiet village.
When Julie Amacher asked me to help expand stories featured in Classical Kids Storytime to include precious tales from around the world, I instantly thought of Yer and the Tiger. Julie and her colleagues at Classical MPR invited me to adapt the folktale, include traditional Hmong music and through illustrations of a Hmong artist, build Yer's world. The idea to expand the stories told on Classical Kids Storytime to include Black, Indigenous, and people of color increases our young listeners' capacity to respect and celebrate differences in all people.
And so, I share a meaningful story of the Hmong people, which I adapted with the help from my colleagues at Classical MPR.
Fun Facts:
• Yer means the 'youngest daughter' in Hmong.
• The instrument featured in Yer and the Tiger is a Hmong instrument called a qeej. A qeej is made up of several bamboo pipes, each fitted with a free reed, which gives each instrument a unique sound, so much so that some believe that each qeej has its own soul and spirit.
• Leaf blowing is another staple in traditional Hmong music and is also featured in Yer and the Tiger. In fact, Hmong musicians often use banana leaves to blow various melodies and bird calls and make certain tones related to words in the Hmong language.

Gallery
6 of 6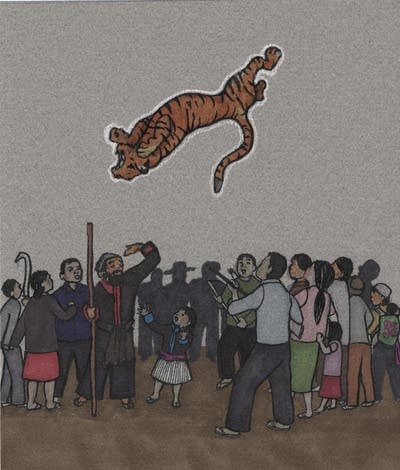 1 of 6
2 of 6
Love the music?
Donate by phone
1-800-562-8440
Show your support by making a gift to YourClassical.
Each day, we're here for you with thoughtful streams that set the tone for your day – not to mention the stories and programs that inspire you to new discovery and help you explore the music you love.
YourClassical is available for free, because we are listener-supported public media. Take a moment to make your gift today.
Your Donation
$5/month
$10/month
$15/month
$20/month
About YourClassical Storytime
YourClassical Storytime is supported by the Minnesota Waldorf School. Find out more at mnwaldorf.org.
Listen to YourClassical Storytime in your favorite podcast portal, including these:
About YourClassical Storytime
We can help you find classical music you'll love
Take a 2 minute quiz to share your taste

We'll recommend YourClassical programming just for you

Discover the power and joy of classical music