YourClassical Children
Virtual Class Notes Concerts: Border CrosSing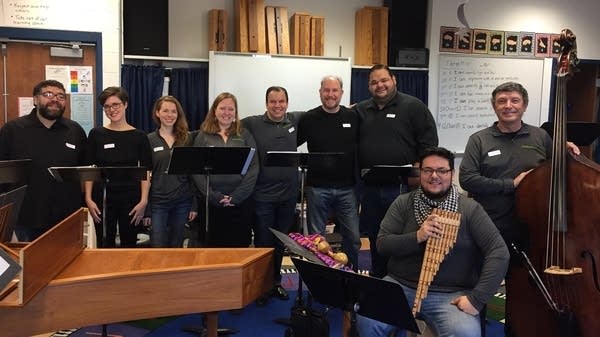 Welcome to Virtual Class Notes Concerts!
Each year, Classical MPR reaches tens of thousands of students across Minnesota through the Class Notes Concerts program. Designed to engage and inspire elementary students through live musical performance, these concerts help cultivate active listening skills and allow students to experience the joy of classical music.
Due to current circumstances, we have adapted the concert content to provide a virtual Class Notes Concert. Today's Classical Kids Music Lesson will be a virtual Class Notes concert featuring Border CrosSing.
Target age range: Grades K-8
1. First, meet Ahmed Anzaldúa, Artistic Director of Border CrosSing.
2. Listen and watch Hanacpachap Cussicuinin, Anonymous, 17th century.
3. Remember and reflect. After watching Hanacpachap Cussicuinin, use the following questions for journaling or discussion:
• How many singers did you see and hear?
• How many instruments were there? Do you remember their names?
• Who wrote Hanacpachap Cussicuinin?
• When was it composed?
• What language are the singers singing?
• To which instrument family does the charango belong?
• How about the bombo?
• And the double bass?
• How many strings are there on a charango?
• How many strings are there on a double bass?

Can you name the three instruments pictured below?
4. Listen to Ahmed talk about Border CrosSing's next piece, Alma Llanera.
5. Listen and watch Alma Llanera, Pedro Gutiérrez, arr. Angel Sauce.
6. Ahmed will explain one more piece, and talk a little about the way this piece is put together.
7. Follow this listening map while listening to A Este Sol Peregrino.
Press play to listen to A Este Sol Peregrino.
LISTEN — A Este Sol Peregrino
Tomas de Torrejon y Velasco (trans. Ahmed Anzaldúa)
Border CrosSing

8. Finally, Ahmed will review a few highlights and ideas from this virtual concert.
Learn More
• Learn more about Border CrosSing on their website.
• You can find a video performance of A Este Sol Peregrino here.
Tell us what you learned!
Getting feedback from our audience helps make this program possible. Students, teachers, and parents, please take a minute to complete this short survey about this Virtual Class Notes Concerts.
Have a question or suggestion? Contact Katie Condon, music education specialist.