Classical Kids Music Lessons: Dance party!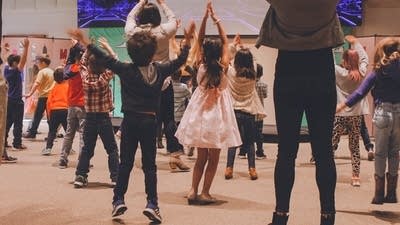 Need ideas for easy and fun at-home music learning? Here's our daily Classical Kids Music Lesson.
Target age range: Grades K-2
1. A lot of music makes us want to move. Dance along with many different kinds of music. Start with a few questions.
• What do you think of when you think of dance music?
• Do you think dance styles have changed over time?
• What do you think dancing was like in the year 1700? 1800? 1900? 2000?
• Do you think dance styles might be different in different parts of the world?

2. Listen to the following pieces. Dance along!
• This is some music from the Democratic Republic of Congo:
LISTEN — Malembe
Siama Matuzungidi
Siama's Congo Roots

• 'Mambo,' from West Side Story, by Leonard Bernstein:
LISTEN — Mambo, fr West Side Story
Leonard Bernstein
Nashville Symphony Orchestra; Kenneth Schermerhorn, conductor

• Here is some dance music from a LONG time ago: 1692. It's called "Dance for the Fairies." Maybe the title will inspire some of your dance moves.
• 'Russian Dance,' from the Nutcracker, by Peter Tchaikovsky:
• Minuets were a very popular dance style long ago. Here is one by Beethoven:
• The fourth movement of Beethoven's Seventh Symphony might not have been composed with dancing in mind, but it's impossible to sit still when listening to this:
• Here is one more to completely tire you out:
Happy Dancing!
Have a question or suggestion? Contact Katie Condon, music education specialist.
More: View all of our daily Classical Kids Music Lessons
Before you go...
Thank you for choosing YourClassical as your go-to for your classical music. In addition to the variety of music streams we have, we're proud to offer features like the one you're reading right now. Help us continue to give you what you love by making a gift today, in support of YourClassical.