Classical Kids Storytime: 'Harriet's Recital'
▼ Download: Harriet's Recital
Harriet loves ballet class, but when her teacher announces a recital, she comes down with a bad case of stage fright. Will Harriet overcome her fears before the big performance? Find out in Harriet's Recital, the latest episode of Classical Kids Storytime, featuring an original story and illustrations by Nancy Carlson and music by Tchaikovsky.
(See more of Carlson's illustrations in the gallery.)
Harriet's Recital, by Nancy Carlson. Text and illustrations ©1982 by Carolrhoda Books Inc., ©2006 by Nancy Carlson. Reprinted with the permission of Carolrhoda Books, a division of Lerner Publishing Group Inc. All rights reserved. No part of this excerpt may be used or reproduced in any manner whatsoever without the prior written permission of Lerner Publishing Group Inc.
More: Other Classical Kids Storytime adventures
Podcast: Now available on iTunes!
Educators: Classical Kids Storytime meets Common Core Standards
YouTube
Playlist
Our telling of Harriet's Recital includes excerpts from the following work and recording:
Pyotr Tchaikovsky: Swan Lake
Russian State Symphony Orchestra, Dmitry Yablonsky
Naxos 572932

Courtesy of Naxos of America Inc.
Credits
Storyteller: Melissa Dundis
Writer: Nancy Carlson
Illustrations: Nancy Carlson
Producer: Valerie Kahler
Digital producer: James Napoli
Senior digital producer: Randy Salas
Program director: Julie Amacher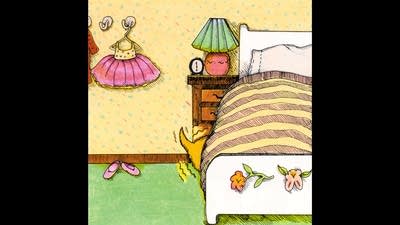 Before you go...
Thank you for choosing YourClassical as your go-to for your classical music. In addition to the variety of music streams we have, we're proud to offer features like the one you're reading right now. Help us continue to give you what you love by making a gift today, in support of YourClassical.